We currently live in a period where people begin to create their own individual perception. In a confusing, turbulent world between reality and surreality – surrounded by analogue and digital media. Continuously we move through space and time, frequently neglecting the beauty of our surroundings…
The story takes us to a abandoned mansion, a place that distances itself from the present and resembles a picturesque appearance. It seems as if the world had held its breath for a second. While silently and slowly nature reclaims its territory, the digital takeover and problems of our society continue to run.
A young woman is trapped in the surreal presence of our never pausing digital world. The isolation in which she finds herself is depicted through a futuristic mask, which deprives her of the real beauty of her surroundings. The people she meets in the rooms of the mansion, which has stood still in time, metaphorically present her the sensitive problems of our society.
Little by little she feels more alive than her ambience and brings fresh life into the situation with every room she passes. In the end, the environment becomes too oppressive for her, she dares to break out of captivity and sets out in search of freedom. In front of the mansion she encounters a monolith descending down to earth, which gives her an answer and encourages her to take off her mask. Finally she can free herself and perceive the remaining beauty of our world.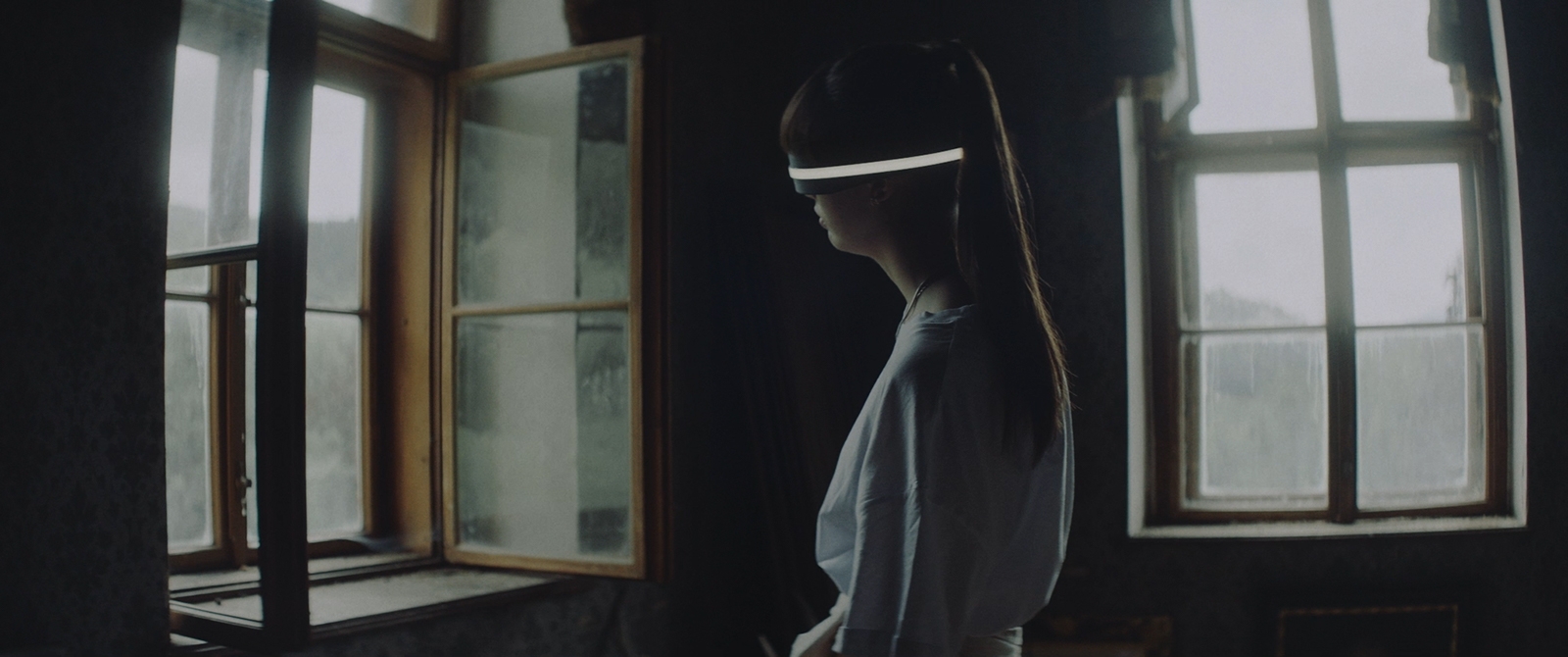 Crew

a HØVN films GmbH Production DIRECTORS stefan pecher x oscar pecher DOP moritz uthe
EXECUTIVE PRODUCER manuel nguyen ASSISTANT PRODUCERS peter scherb x alexander mandl CHOREOGRAPHER lima pecher AC florian noever
GAFFER alexander sprenger BEST GIRL judith dornetshuber x sina lang DOLLY GRIP leander orthofer HMU camilla bartha
PRODUCTION DESIGN sarah Heidenreich x alexandra sascha latiy VFX/PROPS studio formlos VFX SUPERVISORS jascha süss PROPS DESIGNER matthias timo finding COMPOSITING/ANIMATION yunus sezer 3D SURFACE DESIGN leo miedaner MUSIC peter kruder x richard dorfmeister EDITOR stefan pecher COLORIST mike bothe
TITLE DESIGN oscar pecher DANCER/TALENT lima pecher